airasia wifi just got faster!
Promotion End. Thanks!
More speed, greater possibilities - we've taken inflight Internet to the next level and given a new name to our service!
Introducing airasia wifi+, the enhanced inflight entertainment and connectivity service now available on selected AirAsia flights! airasia wifi+ is equipped with a high-speed Internet Ka-band system, offering an enhanced inflight entertainment and connectivity (IFEC) experience beyond basic broadband, supporting real-time video, music streaming, and more.
To celebrate, we're offering BIG Members travelling on flights equipped with airasia wifi+ a free 10MB trial of the new service. Try it the next time you fly AirAsia.
Here's how to redeem your complimentary 10MB Internet Plan on board: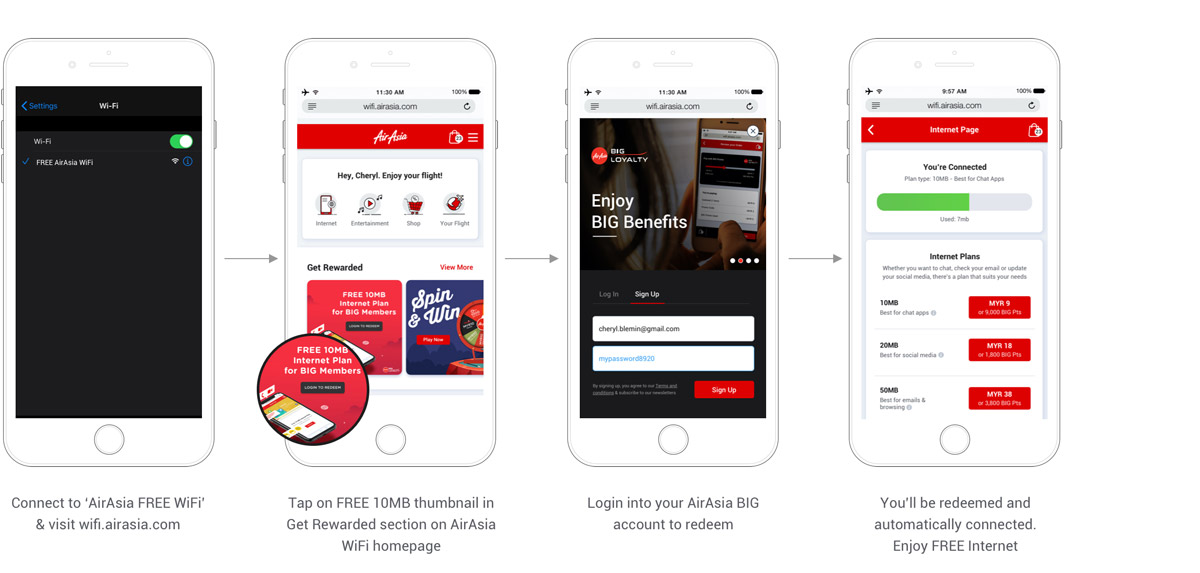 What's more, airasia wifi+ also offers FREE entertainment so you can watch exciting international and local content, play games, read magazines, listen to music, and more! You can also shop exciting deals from a variety of brands and enjoy home delivery.
If you want to use your favourite apps to chat, email, update your social media or simply surf the Internet, all you have to do is purchase an Internet Plan according to your needs!
| Internet Plans | Price | Redeem BIG Points |
| --- | --- | --- |
| 10 MB (Best for chat apps) | MYR 9 | 1125 BIG Points |
| 20 MB (Best for Social Media) | MYR 18 | 2250 BIG Points |
| 50 MB (Best for emails & browsing) | MYR 38 | 4750 BIG Points |
| 100 MB (Best for lite streaming) | MYR 48 | 6000 BIG Points |
| 200 MB (Best for streaming) | MYR 58 | 7250 BIG Points |
Connect for FREE and visit wifi.airasia.com on your AirAsia flight to enjoy entertainment, shopping, and Internet—fun in the sky awaits!
*airasia wifi+ is available on selected flights only.